NEW DELHI: According to Canalys' latest report, the global PC market has been in tremendous demand. The report found that PC shipments in the first quarter of 2021 were up 53.1% year over year to 122.1 million units. The report adds that both Chromebooks and tablets continued to grow in 2021, posting growth of 274.6% and 51.8%, respectively, in the first quarter.
HP was once again the leader in the market with growth of 63.7%, exceeding the 4 million unit mark. Lenovo took second place with 3.1 million units delivered. Acer, Samsung and Dell made up the rest of the top 5, all shipping over 1 million units.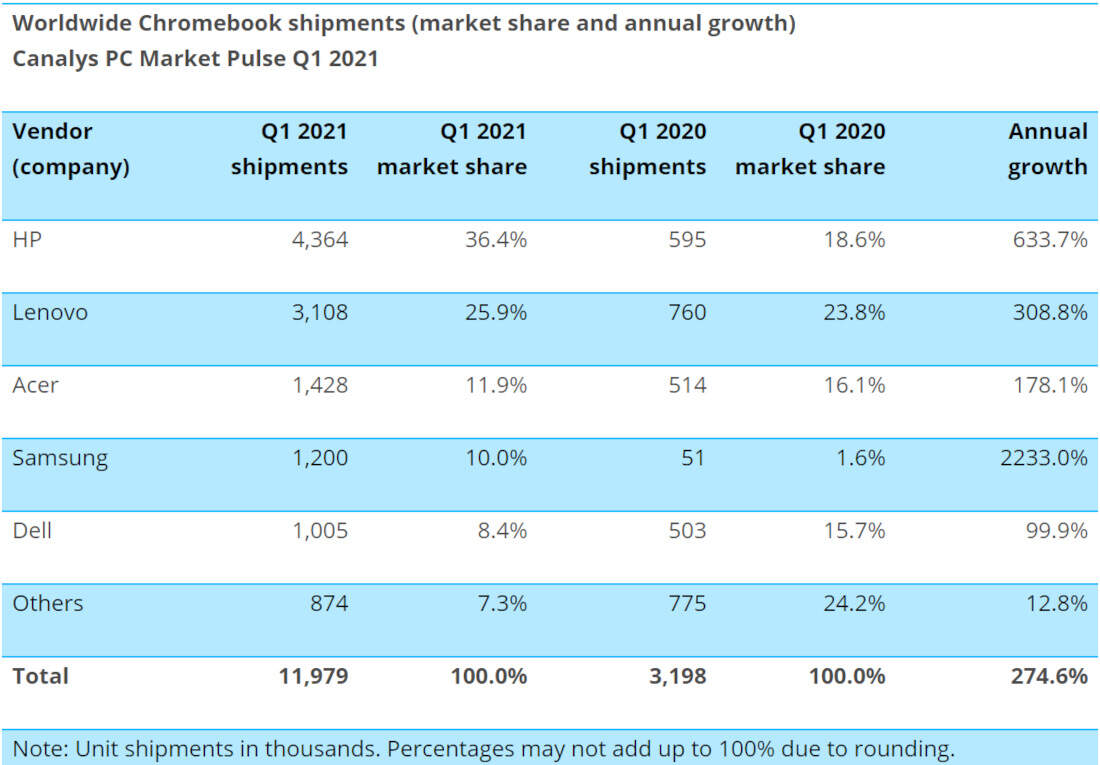 Brian Lynch, research analyst at Canalys, said, "HP and Lenovo dominate the Chromebook market, but the boom was the case of a rising tide that lifted all boats and allowed vendors like Acer and Samsung to gain significant shares in the PC market win specially tailored to the demand for Chromebooks. Google is now in a strong position to work with its OEM partners and the channel to cement a bright future for Chromebooks. A significant push in messaging and evangelization, coupled with alignment with growth trends such as flexible work arrangements and budget conscious SMBs, will be critical to the longevity of Chromebooks' success. "
On the flip side, Apple continued to lead the tablet market with 15.2 million units shipped. Samsung took second place with 8.0 million units shipped. Lenovo and Amazon achieved the highest year-over-year growth in shipment volume at 133.5% and 197.9%, respectively.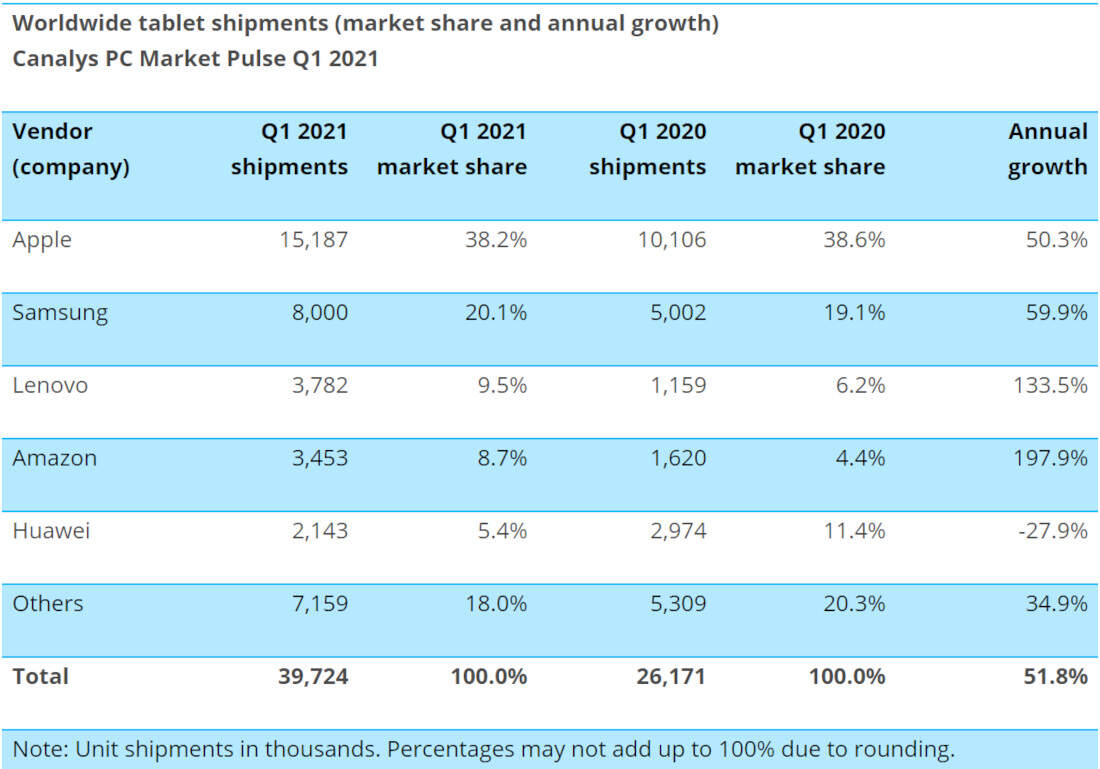 Huawei suffered a 27.9% drop, mainly due to the breakup of the former Honor brand.
Himani Mukka, research analyst at Canalys, said: "Even after the traditionally strong Christmas season, vendors are seeing increased demand as the need for affordable computing and connectivity continues at a time when the entire PC market is facing a supply crisis vendors see it, thanks to the increased demand for screen access and remote productivity created by the pandemic, strong tablet offerings have made even bigger profits. "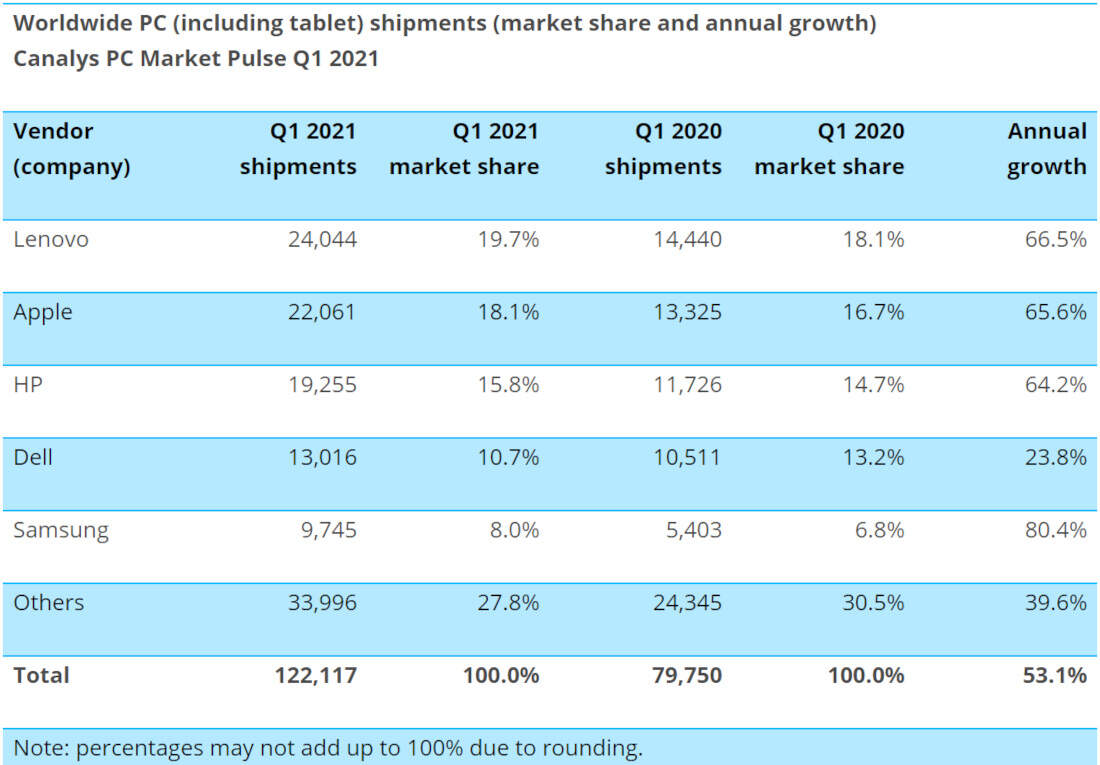 Lenovo maintained its lead in the total PC market, which includes desktops, notebooks, and tablets, shipping 24.0 million devices, and growing 66.5%. Apple ranked second with 22.1 million shipments of Macs and iPads. HP secured third place with 19.3 million units and growth of 64.2%, with Dell and Samsung making up the remainder of the top 5.
.